Skip Main Navigation
Communicate Your Results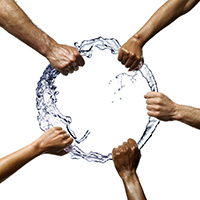 An effective communications plan helps to spread your message.
Now it is time to let the world know about your water purification system and the research you have discovered about your selected region. In this activity, your team will take on the role of public affairs specialists to create a short video or multimedia presentation (using PowerPoint or Glogster.com

).
Before you work on your presentation, look at these examples of successful campaigns for different kinds of health and social issues.
> It's in Your Hands


(from Media That Matters via YouTube)
> MIDWAY a Message from the Gyre: a short film by Chris Jordan


(from TeacherTube)
Disclaimer: The MIDWAY video contains some graphic images of dead and dying birds that may be difficult for sensitive viewers.
As you watch, think about:
What makes these videos effective?
What style of video and what information is shared?
How do the producers appeal to the viewers' reason or emotion?
Answer these questions on page 15 in your Engineering Portfolio. Use the chart on page 16 to begin planning your own video or multimedia presentation.