Skip Main Navigation
Phase 3 - Build Your Presentation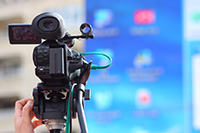 It may take several video "takes" until you get your presentation just right.
As you think of creative ways to present your findings, keep in mind that your presentation should address:
Your selected region and why you chose it
An overview of water sources and water quality in this area
Efforts currently in place to improve safe drinking water access
A short overview of any environmental, social, economic or political issues that hinder access to safe drinking water
An engineering solution that can treat undrinkable water and turn it into clean drinking water for the citizens of this area
Your presentation does not have to feature the exact water system that your STEM team developed, but it should advocate for the approach—distillation or filtration—that you used.
Review the rubric for your presentation before you begin.
Now, turn on your camera or boot up your computer and start creating!