Skip Main Navigation
Water Quality Resources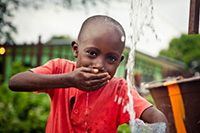 A water pump can provide clean drinking water.
Explore the following links to learn more about the natural and engineered processes that can help contribute to improved water quality. Use the information on these sites to help develop your water purification system.
Here is a more detailed explanation of the water cycle:
> Summary of the Water Cycle


(from the U.S. Geological Survey)
This article describes how microorganisms can help remove contaminants from water:
> Nature Lends a Hand Removing Contaminants From Water


(from Red Orbit)
The National Academy of Engineering has called the processing of undrinkable water into clean drinking water one of the "grand challenges" of this millennia. Read more here:
> Provide Access to Clean Water


(National Academy of Engineering of the National Academies)
The CDC lists ceramic filtration as an effective way to purify water:
> Ceramic Filtration


(from the Centers for Disease Control and Prevention)
This resource describes how some countries are using desalinization to turn seawater into drinking water:
> Thirsty? How 'Bout a Cool, Refreshing Cup of Seawater?


(from the U.S. Geological Survey)
This site lists several different ways to remove contaminants from water:
> Removing Multiple Contaminants From Drinking Water (PDF)


(from the Environmental Protection Agency)